An important part of advocating for major social issues – like sexual violence on college campuses – is being respectful of those your work is aiming to help and not shutting them out.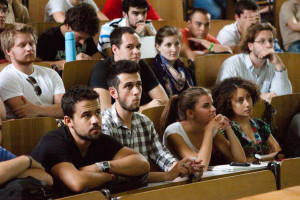 Watch your language!
One of the most important parts about activism is to ensure that the group does not become so entrenched in academic social justice jargon that the message is inaccessible to those outside the Social and Behavioral Sciences department.
Be skilled in presenting your information in ways that help everyone know what you stand for and how you can provide help – be it outside resources or help reaching out to administration/law enforcement for further assistance.
Don't forget people!
Another of the major issues in activism is when the activists (intentionally or not) focus on a certain subset of people and alienate a group from seeking out help.
Some of the biggest groups that are forgotten in sexual assault activism, both on and off college campuses, are the non-white survivors, the disabled/persons with disabilities, the men, and the LGBTQ+ survivors.
If at all possible, look to other organizations on campus for those groups and reach out to them about helping foster the best environment where those people would feel comfortable reaching out to your organization for help. LGBTQ+ organizations and ethnic student organizations could provide help with the terminology used and possible translations into other languages, the students with disabilities office could provide help with interpreters or more accessible campus venues during events.
Just be mindful that, not only do you have these separate groups to take into account, but you may have students who overlap into several groups that would benefit from your help.
Is the school on board?
Go over your school's sexual assault/harassment policies with a fine-toothed comb!
If something seems like it might neglect someone – especially those mentioned in the previous bullet point – then that is something to bring up with campus administration. No student should feel as though their campus does not view their experiences as actual trauma.
Gather up as much information as possible about the campus's official procedures for reporting sexual assault and what the investigation means for the survivor, as well as what the campus views as appropriate punishment. Provide this type of information to those who seek out your organization so that they may make a well-informed decision.
Educate the whole campus!
Draw people in! Most colleges and universities have some form of Denim Days and/or Take Back The Night events on campus throughout the year, but there should be more events that bring students together.
A good option is to focus on prevention techniques for all genders – events that discuss healthy sexual contact, gaining consent before sexual activities, and ways to deal with suspected drugged food/drink. Make sure to remember that the language should be inclusive because women are not the only people that should be hearing this.
You can even make things more engaging with exercises on affirmative consent versus coerced consent or bystander intervention skits to keep the participating students involved.
Reach out to your campus officials and try to secure this as a continuing event, if possible – much like the Greek organizations do to educate pledges about hazing and campus policies about sororities and fraternities.
All of this might seem daunting but it's always better to be inclusive and reach out to those who may feel isolated or like no one cares about them than to shut out the very people you hope to help with the language you are fighting so hard against.
Remember that, in terms of college policies, it may be hard to motivate your school (or the campuses in your community) to follow through and be more involved in upholding their Title IX policies or amending them to better suit diverse populations – but just because it's hard doesn't mean we sit and wait for them to decide when they feel like helping. We hold them accountable and fight for the safety of all students.