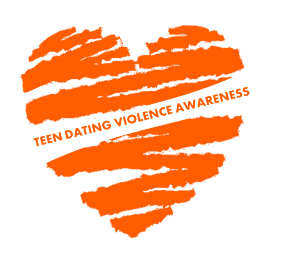 We all remember our first love. For some, it was in kindergarten and we fell in love over a PB&J or on the monkey bars at recess. For others, it was through a note passed across several seats in your middle school English class. But, if we want to get to the REAL "first love" stories, we look no further than the halls of our local high schools. Teens are making it "Facebook official" and declaring their love for each other on a daily basis. As adults, it's easy to pass this off as "young love" or "teenage drama" and not take the feelings/emotions of teens seriously, but by doing this we can miss an extremely important opportunity: teaching teens about healthy relationships. It's crucial that we help teens understand what a healthy relationship looks like, and give them tools and resources to get out of an unhealthy relationship, because this will have a lasting impact.
Teen dating abuse is extremely common. One in three adolescents in the U.S. is a victim of physical, sexual, emotional or verbal abuse from a dating partner. This figure far exceeds rates of other types of youth violence (loveisrespect.org). Often times when people hear "abusive relationships" their minds go straight to physical violence. However, dating abuse does not have to be physical, and often times it isn't. I work with young people in a high school setting,
and I often tell students, "If you went on a first date with someone, and they punched you in the face, chances are you probably wouldn't go on a second date!" They laugh a little at the absurdity of my comment, but understand what I am saying. Once a relationship reaches the point of physical abuse, that relationship is extremely dangerous. But how did the relationship get to that point? Most relationships look good in the beginning stages, and when warning signs of abusive behaviors start to occur, people may dismiss them.
I spend a lot of time talking with teens about relationships. I work very closely with our local domestic violence agency, Underground Railroad, Inc of Saginaw, to educate our youth on the importance of healthy relationships and and how to recognized warning signs. One fact that we emphasize to our students is the ONLY cause of relationship abuse is one person wanting power and control over their partner. Often times, teens may think abuse happens because of drug/alcohol abuse, a history of abuse, anger issues, jealousy, or the like. It is vitally important to help our teens understand that abuse is NEVER their fault, and that they have the right to end a relationship for any reason at any time.
Each year the group of students I work with creates a big campaign for Teen Dating Violence Awareness Month. As part of this campaign, students create artwork that expresses healthy vs. unhealthy relationships, assemble healthy relationship Valentines bags, ask their peers and teachers to wear purple (for domestic violence awareness) to school events, and provide information about teen dating violence through a variety of settings. This campaign was implemented in 2011, and since then we have seen a decrease in bullying and other negative social behaviors.
Teenage relationships are more than just "teen drama" and are not something to be dismissed. We need to teach our teens, while they are still developing their skill set, how to have healthy relationships. Teens are our future. We need to offer them the support they need to have healthy, respectful relationships, and provide them with a safe, non-judgmental space to speak openly about dating abuse.